Balifiber pemain baru di ISP FTTH (Fiber To The Home), memberikan 4 pilihan paket yang menggiurkan. Saya memilih paket Kuta upto 25Mbps, setelah beberapa bulan dan kecepatan memuaskan langsung upgrade ke 100 Mbps.
Karena Balifiber masih baru, masing jarang yang mereviewnya, jadi jangan kecewa kalo ini review pertama yang anda temukan lengkap dengan test kecepatannya ;)
Berikut ini beragam paket yang ditawarkan oleh Bali Fiber
| Nama Paket | Kecepatan (upto) | Harga (bulan) |
| --- | --- | --- |
| Sanur | 5 Mbps | Rp. 99.000 |
| Kuta | 25 Mbps | Rp. 199.000 |
| Jimbaran | 50 Mbps | Rp. 279.000 |
| Nusa Dua | 100 Mbps | Rp. 349.000 |
Pemasangan Bali Fiber tidak dikenakan biaya sama sekali, pembayaran internet bisa menggunakan Alfamart, Mandiri, Indomaret, BCA atau pun Kartu Kredit.
Modem di pinjamkan dan tidak perlu membayar biaya sewa bulanan. Sayangnya IP yang ditawarkan hanya private IP (NAT), tanpa ada opsi bayar untuk mendapatkan IP Statik. Download dan Uploadnya simetris, dalam artian 1:1 atau sama cepatnya.
Ada channel TV yang disertakan, daftarnya bisa dilihat di situs BaliFiber. Untuk anda pengguna Netflix jangan ragu, karena Balifiber tidak memblokir Netflix. Router Wifi yang diberikan adalah Alcatel Lucent.
Beberapa kelebihan yang lain :
– Tidak ada FUP
– Kabel yang dipasang teknisi rapi
– Router canggih
– Tidak ada DNS yang diblokir (DNS bisa di bypass dengan mengganti DNS ;))
– Router WiFi
Beberapa kekurangan :
– DNS difilter (sesuai anjuran kominfo)
– IP NAT
– WiFi bawaan hanya di 2.4 Hz
– Tidak diberikan username/password untuk router, jadi kalo mau mengganti nama WiFi atau password harus lapor ke customer service (sssst tapi ada lho akun backdoornya ini router)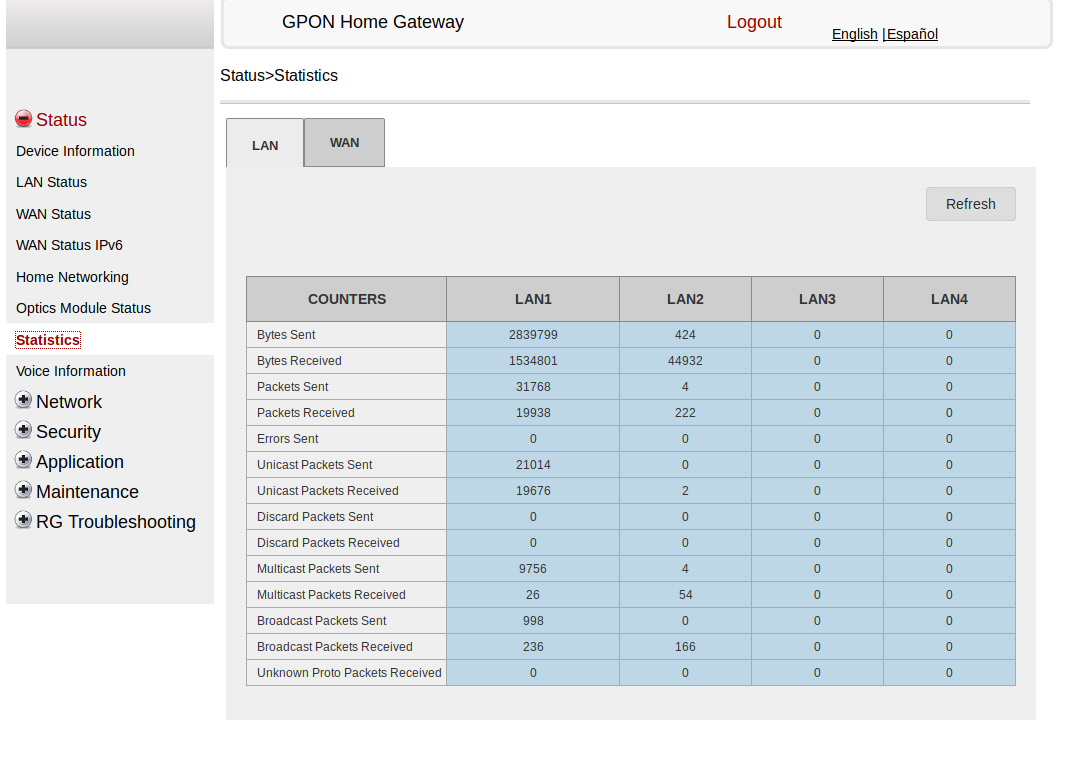 Speedtest / Tes kecepatan
Review mengenai kecepatan internet takkan bisa dipisahkan dengan tes kecepatan download dan tes kecepatan upload.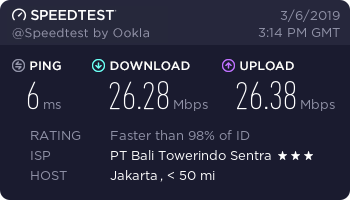 speedtest ke beberapa ISP Indonesia
Retrieving speedtest.net configuration...
Testing from PT Bali Towerindo Sentra, Tbk 

(

103.119.140.16

)

...
Retrieving speedtest.net server list...
Retrieving information 

for

 the selected server...
Hosted by BALIFIBER 

(

PT Bali Towerindo Sentra Tbk

)

 

(

Jakarta

)

 

[

0.76

 km

]

: 

6.278

 ms
Testing download speed................................................................................
Download: 

26.25

 Mbit

/

s
Testing upload speed................................................................................................
Upload: 

26.18

 Mbit

/

s
 
Retrieving speedtest.net configuration...
Testing from PT Bali Towerindo Sentra, Tbk 

(

103.119.140.16

)

...
Retrieving speedtest.net server list...
Retrieving information 

for

 the selected server...
Hosted by CBN 

(

Jakarta

)

 

[

0.76

 km

]

: 

21.399

 ms
Testing download speed................................................................................
Download: 

26.34

 Mbit

/

s
Testing upload speed................................................................................................
Upload: 

26.27

 Mbit

/

s
 
Retrieving speedtest.net configuration...
Testing from PT Bali Towerindo Sentra, Tbk 

(

103.119.140.16

)

...
Retrieving speedtest.net server list...
Retrieving information 

for

 the selected server...
Hosted by PT Mora Telematika Indonesia 

(

Jakarta

)

 

[

0.76

 km

]

: 

22.395

 ms
Testing download speed................................................................................
Download: 

23.79

 Mbit

/

s
Testing upload speed................................................................................................
Upload: 

26.01

 Mbit

/

s
 
Retrieving speedtest.net configuration...
Testing from PT Bali Towerindo Sentra, Tbk 

(

103.119.140.16

)

...
Retrieving speedtest.net server list...
Selecting best server based on ping...
Hosted by FirstMedia 

(

Jakarta

)

 

[

0.76

 km

]

: 

15.427

 ms
Testing download speed................................................................................
Download: 

24.15

 Mbit

/

s
Testing upload speed................................................................................................
Upload: 

25.51

 Mbit

/

s
Download ISO Linux
$ 

wget

 

-O

 

/

dev

/

null https:

//

mirror.sg.leaseweb.net

/

speedtest

/

100mb.bin


--2019-03-06

 

22

:

30

:

34

--  https:

//

mirror.sg.leaseweb.net

/

speedtest

/

100mb.bin
Resolving mirror.sg.leaseweb.net 

(

mirror.sg.leaseweb.net

)

... 103.254.153.18
Connecting to mirror.sg.leaseweb.net 

(

mirror.sg.leaseweb.net

)

|

103.254.153.18

|

:

443

... connected.
HTTP request sent, awaiting response... 

200

 OK
Length: 

100000000

 

(

95M

)

 

[

application

/

octet-stream

]


Saving to: '

/

dev

/

null'
 


/

dev

/

null               

100

%

[

=============================

>

]

  95.37M  2.93MB

/

s    

in

 35s     
 


2019

-03-06 

22

:

31

:09 

(

2.74

 MB

/

s

)

 - '

/

dev

/

null' saved 

[

100000000

/

100000000

]


 
$ 

wget

 

-O

 

/

dev

/

null http:

//

speedtest.singapore.linode.com

/

100MB-singapore.bin


--2019-03-06

 

22

:

35

:

59

--  http:

//

speedtest.singapore.linode.com

/

100MB-singapore.bin
Resolving speedtest.singapore.linode.com 

(

speedtest.singapore.linode.com

)

... 139.162.23.4, 

2400

:

8901

::4b
Connecting to speedtest.singapore.linode.com 

(

speedtest.singapore.linode.com

)

|

139.162.23.4

|

:

80

... connected.
HTTP request sent, awaiting response... 

200

 OK
Length: 

104857600

 

(

100M

)

 

[

application

/

octet-stream

]


Saving to: '

/

dev

/

null'
 


/

dev

/

null               

100

%

[

=============================

>

]

 100.00M  1.48MB

/

s    

in

 38s     
 


2019

-03-06 

22

:

36

:

37

 

(

2.61

 MB

/

s

)

 - '

/

dev

/

null' saved 

[

104857600

/

104857600

]


 
$ 

wget

 

-O

 

/

dev

/

null http:

//

speedtest-sgp1.digitalocean.com

/

100mb.test


--2019-03-06

 

22

:

36

:

52

--  http:

//

speedtest-sgp1.digitalocean.com

/

100mb.test
Resolving speedtest-sgp1.digitalocean.com 

(

speedtest-sgp1.digitalocean.com

)

... 159.89.192.182, 

2400

:

6180

:

0

:d1::

5

:d001
Connecting to speedtest-sgp1.digitalocean.com 

(

speedtest-sgp1.digitalocean.com

)

|

159.89.192.182

|

:

80

... connected.
HTTP request sent, awaiting response... 

200

 OK
Length: 

104857600

 

(

100M

)

 

[

text

/

plain

]


Saving to: '

/

dev

/

null'
 


/

dev

/

null               

100

%

[

=============================

>

]

 100.00M  2.38MB

/

s    

in

 38s     
 


2019

-03-06 

22

:

37

:

30

 

(

2.66

 MB

/

s

)

 - '

/

dev

/

null' saved 

[

104857600

/

104857600

]
Ping Test
Hasil ping ke beberapa situs
PING speedtest-sgp1.digitalocean.com 

(

159.89.192.182

)

 

56

(

84

)

 bytes of data.


64

 bytes from 159.89.192.182 

(

159.89.192.182

)

: 

icmp_seq

=

1

 

ttl

=

56

 

time

=

21.10

 ms


64

 bytes from 159.89.192.182 

(

159.89.192.182

)

: 

icmp_seq

=

2

 

ttl

=

56

 

time

=

20.7

 ms


64

 bytes from 159.89.192.182 

(

159.89.192.182

)

: 

icmp_seq

=

3

 

ttl

=

56

 

time

=

21.1

 ms


64

 bytes from 159.89.192.182 

(

159.89.192.182

)

: 

icmp_seq

=

4

 

ttl

=

56

 

time

=

20.5

 ms
 


---

 speedtest-sgp1.digitalocean.com 

ping

 statistics 

---




4

 packets transmitted, 

4

 received, 

0

%

 packet loss, 

time

 7ms
rtt min

/

avg

/

max

/

mdev = 

20.484

/

21.057

/

21.956

/

0.565

 ms
PING google.com 

(

64.233.177.100

)

 

56

(

84

)

 bytes of data.


64

 bytes from yx-in-f100.1e100.net 

(

64.233.177.100

)

: 

icmp_seq

=

1

 

ttl

=

42

 

time

=

371

 ms


64

 bytes from yx-in-f100.1e100.net 

(

64.233.177.100

)

: 

icmp_seq

=

2

 

ttl

=

42

 

time

=

395

 ms


64

 bytes from yx-in-f100.1e100.net 

(

64.233.177.100

)

: 

icmp_seq

=

3

 

ttl

=

42

 

time

=

420

 ms


64

 bytes from yx-in-f100.1e100.net 

(

64.233.177.100

)

: 

icmp_seq

=

4

 

ttl

=

42

 

time

=

544

 ms
 


---

 google.com 

ping

 statistics 

---




4

 packets transmitted, 

4

 received, 

0

%

 packet loss, 

time

 4ms
rtt min

/

avg

/

max

/

mdev = 

370.582

/

432.424

/

544.077

/

66.783

 ms
PING 8.8.8.8 

(

8.8.8.8

)

 

56

(

84

)

 bytes of data.


64

 bytes from 8.8.8.8: 

icmp_seq

=

1

 

ttl

=

122

 

time

=

16.0

 ms


64

 bytes from 8.8.8.8: 

icmp_seq

=

2

 

ttl

=

122

 

time

=

19.6

 ms


64

 bytes from 8.8.8.8: 

icmp_seq

=

3

 

ttl

=

122

 

time

=

17.6

 ms


64

 bytes from 8.8.8.8: 

icmp_seq

=

4

 

ttl

=

122

 

time

=

16.5

 ms
 


---

 8.8.8.8 

ping

 statistics 

---




4

 packets transmitted, 

4

 received, 

0

%

 packet loss, 

time

 9ms
rtt min

/

avg

/

max

/

mdev = 

16.013

/

17.433

/

19.622

/

1.392

 ms
PING 1.1.1.1 

(

1.1.1.1

)

 

56

(

84

)

 bytes of data.


64

 bytes from 1.1.1.1: 

icmp_seq

=

1

 

ttl

=

57

 

time

=

18.2

 ms


64

 bytes from 1.1.1.1: 

icmp_seq

=

2

 

ttl

=

57

 

time

=

17.7

 ms


64

 bytes from 1.1.1.1: 

icmp_seq

=

3

 

ttl

=

57

 

time

=

21.2

 ms


64

 bytes from 1.1.1.1: 

icmp_seq

=

4

 

ttl

=

57

 

time

=

17.7

 ms
 


---

 1.1.1.1 

ping

 statistics 

---




4

 packets transmitted, 

4

 received, 

0

%

 packet loss, 

time

 8ms
rtt min

/

avg

/

max

/

mdev = 

17.705

/

18.712

/

21.199

/

1.460

 ms
PING 9.9.9.9 

(

9.9.9.9

)

 

56

(

84

)

 bytes of data.


64

 bytes from 9.9.9.9: 

icmp_seq

=

1

 

ttl

=

57

 

time

=

19.4

 ms


64

 bytes from 9.9.9.9: 

icmp_seq

=

2

 

ttl

=

57

 

time

=

17.8

 ms


64

 bytes from 9.9.9.9: 

icmp_seq

=

3

 

ttl

=

57

 

time

=

24.7

 ms


64

 bytes from 9.9.9.9: 

icmp_seq

=

4

 

ttl

=

57

 

time

=

19.3

 ms
 


---

 9.9.9.9 

ping

 statistics 

---




4

 packets transmitted, 

4

 received, 

0

%

 packet loss, 

time

 8ms
rtt min

/

avg

/

max

/

mdev = 

17.778

/

20.296

/

24.716

/

2.633

 ms
PING sgp-ping.vultr.com 

(

45.32.100.168

)

 

56

(

84

)

 bytes of data.


64

 bytes from 45.32.100.168 

(

45.32.100.168

)

: 

icmp_seq

=

1

 

ttl

=

55

 

time

=

17.7

 ms


64

 bytes from 45.32.100.168 

(

45.32.100.168

)

: 

icmp_seq

=

2

 

ttl

=

55

 

time

=

18.8

 ms


64

 bytes from 45.32.100.168 

(

45.32.100.168

)

: 

icmp_seq

=

3

 

ttl

=

55

 

time

=

18.6

 ms


64

 bytes from 45.32.100.168 

(

45.32.100.168

)

: 

icmp_seq

=

4

 

ttl

=

55

 

time

=

18.5

 ms
 


---

 sgp-ping.vultr.com 

ping

 statistics 

---




4

 packets transmitted, 

4

 received, 

0

%

 packet loss, 

time

 8ms
rtt min

/

avg

/

max

/

mdev = 

17.690

/

18.386

/

18.776

/

0.426

 ms
PING speedtest.singapore.linode.com 

(

139.162.23.4

)

 

56

(

84

)

 bytes of data.


64

 bytes from speedtest.singapore.linode.com 

(

139.162.23.4

)

: 

icmp_seq

=

1

 

ttl

=

56

 

time

=

17.4

 ms


64

 bytes from speedtest.singapore.linode.com 

(

139.162.23.4

)

: 

icmp_seq

=

2

 

ttl

=

56

 

time

=

18.9

 ms


64

 bytes from speedtest.singapore.linode.com 

(

139.162.23.4

)

: 

icmp_seq

=

3

 

ttl

=

56

 

time

=

19.6

 ms


64

 bytes from speedtest.singapore.linode.com 

(

139.162.23.4

)

: 

icmp_seq

=

4

 

ttl

=

56

 

time

=

21.4

 ms
 


---

 speedtest.singapore.linode.com 

ping

 statistics 

---




4

 packets transmitted, 

4

 received, 

0

%

 packet loss, 

time

 5ms
rtt min

/

avg

/

max

/

mdev = 

17.378

/

19.308

/

21.416

/

1.461

 ms
PING kaskus.co.id 

(

103.6.117.3

)

 

56

(

84

)

 bytes of data.


64

 bytes from 

3

-id.gb.castle.kaskus.com 

(

103.6.117.3

)

: 

icmp_seq

=

1

 

ttl

=

55

 

time

=

5.64

 ms


64

 bytes from 

3

-id.gb.castle.kaskus.com 

(

103.6.117.3

)

: 

icmp_seq

=

2

 

ttl

=

55

 

time

=

5.34

 ms


64

 bytes from 

3

-id.gb.castle.kaskus.com 

(

103.6.117.3

)

: 

icmp_seq

=

3

 

ttl

=

55

 

time

=

6.65

 ms


64

 bytes from 

3

-id.gb.castle.kaskus.com 

(

103.6.117.3

)

: 

icmp_seq

=

4

 

ttl

=

55

 

time

=

12.10

 ms
 


---

 kaskus.co.id 

ping

 statistics 

---




4

 packets transmitted, 

4

 received, 

0

%

 packet loss, 

time

 8ms
rtt min

/

avg

/

max

/

mdev = 

5.343

/

7.648

/

12.961

/

3.106

 ms
PING detik.com 

(

203.190.242.211

)

 

56

(

84

)

 bytes of data.


64

 bytes from s2-

211

-242.190.203.detik.com 

(

203.190.242.211

)

: 

icmp_seq

=

1

 

ttl

=

58

 

time

=

9.68

 ms


64

 bytes from s2-

211

-242.190.203.detik.com 

(

203.190.242.211

)

: 

icmp_seq

=

2

 

ttl

=

58

 

time

=

5.46

 ms


64

 bytes from s2-

211

-242.190.203.detik.com 

(

203.190.242.211

)

: 

icmp_seq

=

3

 

ttl

=

58

 

time

=

7.63

 ms


64

 bytes from s2-

211

-242.190.203.detik.com 

(

203.190.242.211

)

: 

icmp_seq

=

4

 

ttl

=

58

 

time

=

7.51

 ms
 


---

 detik.com 

ping

 statistics 

---




4

 packets transmitted, 

4

 received, 

0

%

 packet loss, 

time

 7ms
rtt min

/

avg

/

max

/

mdev = 

5.462

/

7.569

/

9.684

/

1.497

 ms
PING kompas.com 

(

202.146.4.100

)

 

56

(

84

)

 bytes of data.


64

 bytes from 202.146.4.100 

(

202.146.4.100

)

: 

icmp_seq

=

1

 

ttl

=

248

 

time

=

7.55

 ms


64

 bytes from 202.146.4.100 

(

202.146.4.100

)

: 

icmp_seq

=

2

 

ttl

=

248

 

time

=

5.91

 ms


64

 bytes from 202.146.4.100 

(

202.146.4.100

)

: 

icmp_seq

=

3

 

ttl

=

248

 

time

=

5.21

 ms


64

 bytes from 202.146.4.100 

(

202.146.4.100

)

: 

icmp_seq

=

4

 

ttl

=

248

 

time

=

5.75

 ms
 


---

 kompas.com 

ping

 statistics 

---




4

 packets transmitted, 

4

 received, 

0

%

 packet loss, 

time

 9ms
rtt min

/

avg

/

max

/

mdev = 

5.212

/

6.105

/

7.552

/

0.876

 ms
Traceroute
traceroute to speedtest-sgp1.digitalocean.com 

(

159.89.192.182

)

, 

30

 hops max, 

60

 byte packets
 

1

  _gateway 

(

192.168.1.254

)

 

[

AS198949

]

  

6.457

 ms  

6.440

 ms  

6.519

 ms
 

2

  10.246.0.1 

(

10.246.0.1

)

 

[

*

]

  

7.614

 ms  

8.410

 ms  

8.409

 ms
 

3

  ip-

168

-

14

.balifiber.id 

(

103.94.168.14

)

 

[

AS136119

]

  

8.807

 ms  

8.730

 ms  

8.724

 ms
 

4

  

168

-

38

.sgw-equinix.balifiber.id 

(

103.94.168.38

)

 

[

AS136119

]

  

20.632

 ms  

25.144

 ms  

25.156

 ms
 

5

  

14061

.sgw.equinix.com 

(

27.111.229.164

)

 

[

AS17819

]

  

25.559

 ms  

25.557

 ms  

25.950

 ms
 

6

  

*

 

*

 

*


 

7

  159.89.192.182 

(

159.89.192.182

)

 

[

AS14061

]

  

18.771

 ms  

18.674

 ms  

18.501

 ms
traceroute to google.com 

(

64.233.177.100

)

, 

30

 hops max, 

60

 byte packets
 

1

  _gateway 

(

192.168.1.254

)

 

[

AS198949

]

  

5.183

 ms  

5.177

 ms  

5.232

 ms
 

2

  10.246.0.1 

(

10.246.0.1

)

 

[

*

]

  

6.842

 ms  

7.478

 ms  

7.469

 ms
 

3

  ip-

168

-

14

.balifiber.id 

(

103.94.168.14

)

 

[

AS136119

]

  

7.983

 ms  

8.006

 ms  

7.943

 ms
 

4

  

168

-

38

.sgw-equinix.balifiber.id 

(

103.94.168.38

)

 

[

AS136119

]

  

19.545

 ms  

18.843

 ms  

19.992

 ms
 

5

  72.14.222.168 

(

72.14.222.168

)

 

[

AS15169

]

  

19.417

 ms  

19.831

 ms  

19.838

 ms
 

6

  74.125.242.34 

(

74.125.242.34

)

 

[

AS15169

]

  

22.692

 ms 108.170.240.242 

(

108.170.240.242

)

 

[

AS15169

]

  

17.707

 ms 108.170.254.226 

(

108.170.254.226

)

 

[

AS15169

]

  

17.320

 ms
 

7

  216.239.57.50 

(

216.239.57.50

)

 

[

AS15169

]

  

17.551

 ms 216.239.35.148 

(

216.239.35.148

)

 

[

AS15169

]

  

16.984

 ms 216.239.35.154 

(

216.239.35.154

)

 

[

AS15169

]

  

26.449

 ms
 

8

  172.253.51.110 

(

172.253.51.110

)

 

[

AS15169

]

  

88.396

 ms 216.239.63.96 

(

216.239.63.96

)

 

[

AS15169

]

  

85.356

 ms  

85.785

 ms
 

9

  108.170.235.220 

(

108.170.235.220

)

 

[

AS15169

]

  

171.190

 ms  

171.953

 ms  

171.971

 ms


10

  108.170.235.196 

(

108.170.235.196

)

 

[

AS15169

]

  

194.906

 ms  

195.865

 ms  

195.347

 ms


11

  72.14.237.134 

(

72.14.237.134

)

 

[

AS15169

]

  

267.818

 ms 72.14.233.82 

(

72.14.233.82

)

 

[

AS15169

]

  

267.708

 ms 209.85.143.135 

(

209.85.143.135

)

 

[

AS15169

]

  

305.289

 ms


12

  209.85.249.50 

(

209.85.249.50

)

 

[

AS15169

]

  

306.003

 ms 209.85.243.161 

(

209.85.243.161

)

 

[

AS15169

]

  

227.519

 ms 209.85.240.17 

(

209.85.240.17

)

 

[

AS15169

]

  

252.607

 ms


13

  209.85.254.107 

(

209.85.254.107

)

 

[

AS15169

]

  

227.080

 ms  

225.678

 ms 216.239.56.166 

(

216.239.56.166

)

 

[

AS15169

]

  

223.246

 ms


14

  

*

 

*

 

*




15

  

*

 

*

 

*




16

  

*

 

*

 

*




17

  

*

 

*

 

*




18

  

*

 

*

 

*




19

  

*

 

*

 

*




20

  

*

 

*

 

*




21

  

*

 

*

 

*




22

  

*

 

*

 

*




23

  yx-in-f100.1e100.net 

(

64.233.177.100

)

 

[

AS15169

]

  

564.877

 ms  

565.055

 ms  

565.324

 ms
traceroute to 8.8.8.8 

(

8.8.8.8

)

, 

30

 hops max, 

60

 byte packets
 

1

  _gateway 

(

192.168.1.254

)

 

[

AS198949

]

  

1.457

 ms  

1.483

 ms  

5.794

 ms
 

2

  10.246.0.1 

(

10.246.0.1

)

 

[

*

]

  

6.301

 ms  

7.330

 ms  

7.339

 ms
 

3

  ip-

168

-

14

.balifiber.id 

(

103.94.168.14

)

 

[

AS136119

]

  

7.931

 ms  

7.949

 ms  

7.916

 ms
 

4

  

168

-

38

.sgw-equinix.balifiber.id 

(

103.94.168.38

)

 

[

AS136119

]

  

46.545

 ms  

46.477

 ms  

38.547

 ms
 

5

  72.14.222.168 

(

72.14.222.168

)

 

[

AS15169

]

  

18.507

 ms  

18.809

 ms  

21.876

 ms
 

6

  74.125.242.33 

(

74.125.242.33

)

 

[

AS15169

]

  

22.265

 ms 108.170.254.225 

(

108.170.254.225

)

 

[

AS15169

]

  

16.817

 ms 74.125.242.33 

(

74.125.242.33

)

 

[

AS15169

]

  

19.078

 ms
 

7

  108.170.237.227 

(

108.170.237.227

)

 

[

AS15169

]

  

20.361

 ms 108.170.233.71 

(

108.170.233.71

)

 

[

AS15169

]

  

20.371

 ms  

20.376

 ms
 

8

  google-public-dns-a.google.com 

(

8.8.8.8

)

 

[

AS15169

]

  

18.936

 ms  

21.121

 ms  

20.630

 ms
traceroute to 1.1.1.1 

(

1.1.1.1

)

, 

30

 hops max, 

60

 byte packets
 

1

  _gateway 

(

192.168.1.254

)

 

[

AS198949

]

  

1.762

 ms  

5.664

 ms  

5.677

 ms
 

2

  10.246.0.1 

(

10.246.0.1

)

 

[

*

]

  

7.941

 ms  

8.953

 ms  

8.962

 ms
 

3

  ip-

168

-

14

.balifiber.id 

(

103.94.168.14

)

 

[

AS136119

]

  

9.663

 ms  

9.508

 ms  

9.542

 ms
 

4

  ip-

168

-

69

.balifiber.id 

(

103.94.168.69

)

 

[

AS136119

]

  

9.577

 ms  

9.560

 ms  

9.466

 ms
 

5

  ip-

103

-

78

-

83

-

161

.moratelindo.net.id 

(

103.78.83.161

)

 

[

AS23947

]

  

34.157

 ms  

35.788

 ms  

39.422

 ms
 

6

  103.83.6.85 

(

103.83.6.85

)

 

[

*

]

  

9.357

 ms  

6.204

 ms  

6.489

 ms
 

7

  103.83.6.18 

(

103.83.6.18

)

 

[

*

]

  

18.340

 ms  

19.372

 ms  

18.870

 ms
 

8

  

13335

.sgw.equinix.com 

(

27.111.228.132

)

 

[

AS17819

]

  

23.958

 ms  

26.050

 ms  

26.803

 ms
 

9

  one.one.one.one 

(

1.1.1.1

)

 

[

AS13335

]

  

22.923

 ms  

22.838

 ms  

22.559

 ms
traceroute to 9.9.9.9 

(

9.9.9.9

)

, 

30

 hops max, 

60

 byte packets
 

1

  _gateway 

(

192.168.1.254

)

 

[

AS198949

]

  

7.827

 ms  

7.807

 ms  

7.830

 ms
 

2

  10.246.0.1 

(

10.246.0.1

)

 

[

*

]

  

10.412

 ms  

10.978

 ms  

10.987

 ms
 

3

  ip-

168

-

14

.balifiber.id 

(

103.94.168.14

)

 

[

AS136119

]

  

10.974

 ms  

10.959

 ms  

10.945

 ms
 

4

  

168

-

38

.sgw-equinix.balifiber.id 

(

103.94.168.38

)

 

[

AS136119

]

  

32.918

 ms  

33.402

 ms  

33.411

 ms
 

5

  

42

.sgw.equinix.com 

(

27.111.228.1

)

 

[

AS17819

]

  

26.443

 ms  

27.511

 ms  

27.908

 ms
 

6

  dns.quad9.net 

(

9.9.9.9

)

 

[

AS19281

]

  

24.666

 ms 

!

X  

19.558

 ms 

!

X  

19.478

 ms 

!

X
traceroute to sgp-ping.vultr.com 

(

45.32.100.168

)

, 

30

 hops max, 

60

 byte packets
 

1

  _gateway 

(

192.168.1.254

)

 

[

AS198949

]

  

1.516

 ms  

5.848

 ms  

5.885

 ms
 

2

  10.246.0.1 

(

10.246.0.1

)

 

[

*

]

  

6.897

 ms  

7.636

 ms  

7.959

 ms
 

3

  ip-

168

-

14

.balifiber.id 

(

103.94.168.14

)

 

[

AS136119

]

  

9.170

 ms  

9.147

 ms  

8.745

 ms
 

4

  

168

-

38

.sgw-equinix.balifiber.id 

(

103.94.168.38

)

 

[

AS136119

]

  

20.602

 ms  

20.918

 ms  

20.015

 ms
 

5

  

20473

.sgw.equinix.com 

(

27.111.229.119

)

 

[

AS17819

]

  

23.189

 ms  

22.435

 ms  

21.779

 ms
 

6

  

*

 

*

 

*


 

7

  

*

 

*

 

*


 

8

  45.32.100.168 

(

45.32.100.168

)

 

[

AS20473

]

  

20.064

 ms  

20.065

 ms  

20.051

 ms
traceroute to speedtest.singapore.linode.com 

(

139.162.23.4

)

, 

30

 hops max, 

60

 byte packets
 

1

  _gateway 

(

192.168.1.254

)

 

[

AS198949

]

  

1.445

 ms  

5.683

 ms  

5.712

 ms
 

2

  10.246.0.1 

(

10.246.0.1

)

 

[

*

]

  

6.863

 ms  

7.579

 ms  

7.577

 ms
 

3

  ip-

168

-

14

.balifiber.id 

(

103.94.168.14

)

 

[

AS136119

]

  

7.554

 ms  

9.207

 ms  

9.504

 ms
 

4

  

168

-

38

.sgw-equinix.balifiber.id 

(

103.94.168.38

)

 

[

AS136119

]

  

21.442

 ms  

22.275

 ms  

22.274

 ms
 

5

  xe-

0

-

0

-

17

-

3

.a00.sngpsi07.sg.bb.gin.ntt.net 

(

116.51.17.157

)

 

[

AS2914

]

  

22.747

 ms  

22.681

 ms  

22.691

 ms
 

6

  ae-

4

.r00.sngpsi07.sg.bb.gin.ntt.net 

(

129.250.2.75

)

 

[

AS2914

]

  

22.146

 ms  

17.091

 ms  

19.448

 ms
 

7

  192.80.17.118 

(

192.80.17.118

)

 

[

*

]

  

19.319

 ms  

19.321

 ms  

18.710

 ms
 

8

  139.162.0.10 

(

139.162.0.10

)

 

[

AS63949

]

  

20.086

 ms  

20.010

 ms 139.162.0.2 

(

139.162.0.2

)

 

[

AS63949

]

  

19.201

 ms
 

9

  speedtest.singapore.linode.com 

(

139.162.23.4

)

 

[

AS63949

]

  

22.780

 ms  

22.524

 ms  

22.601

 ms
traceroute to kaskus.co.id 

(

103.6.117.3

)

, 

30

 hops max, 

60

 byte packets
 

1

  _gateway 

(

192.168.1.254

)

 

[

AS198949

]

  

1.656

 ms  

5.695

 ms  

5.733

 ms
 

2

  10.246.0.1 

(

10.246.0.1

)

 

[

*

]

  

7.316

 ms  

7.899

 ms  

7.887

 ms
 

3

  ip-

168

-

14

.balifiber.id 

(

103.94.168.14

)

 

[

AS136119

]

  

7.877

 ms  

7.819

 ms  

7.787

 ms
 

4

  ip-

168

-

73

.balifiber.id 

(

103.94.168.73

)

 

[

AS136119

]

  

7.772

 ms  

7.715

 ms  

10.763

 ms
 

5

  

*

 

*

 

*


 

6

  kaskus.openixp.net 

(

218.100.36.85

)

 

[

*

]

  

10.126

 ms  

5.306

 ms  

8.015

 ms
 

7

  

239

-id.gb.castle.kaskus.com 

(

103.6.117.239

)

 

[

AS132164

]

  

7.907

 ms  

7.916

 ms  

7.358

 ms
 

8

  10.1.0.3 

(

10.1.0.3

)

 

[

*

]

  

7.851

 ms  

9.846

 ms  

12.297

 ms
 

9

  10.1.0.34 

(

10.1.0.34

)

 

[

*

]

  

11.941

 ms  

11.818

 ms  

11.894

 ms


10

  

3

-id.gb.castle.kaskus.com 

(

103.6.117.3

)

 

[

AS132164

]

  

10.702

 ms  

11.100

 ms  

10.836

 ms
traceroute to detik.com 

(

203.190.242.211

)

, 

30

 hops max, 

60

 byte packets
 

1

  _gateway 

(

192.168.1.254

)

 

[

AS198949

]

  

4.921

 ms  

4.910

 ms  

5.004

 ms
 

2

  10.246.0.1 

(

10.246.0.1

)

 

[

*

]

  

6.829

 ms  

7.670

 ms  

7.672

 ms
 

3

  ip-

168

-

14

.balifiber.id 

(

103.94.168.14

)

 

[

AS136119

]

  

7.666

 ms  

7.660

 ms  

7.652

 ms
 

4

  ip-

168

-

73

.balifiber.id 

(

103.94.168.73

)

 

[

AS136119

]

  

16.394

 ms  

8.029

 ms  

8.004

 ms
 

5

  tengiga-

0

-

1

.openixp.net 

(

218.100.36.2

)

 

[

*

]

  

8.012

 ms  

8.005

 ms  

10.022

 ms
 

6

  detik.openixp.net 

(

218.100.36.9

)

 

[

*

]

  

10.847

 ms  

4.854

 ms  

9.279

 ms
 

7

  

*

 

*

 s2-

211

-242.190.203.detik.com 

(

203.190.242.211

)

 

[

AS24211

/

AS4766

/

AS24198

]

  

7.713

 ms
traceroute to kompas.com 

(

202.146.4.100

)

, 

30

 hops max, 

60

 byte packets
 

1

  _gateway 

(

192.168.1.254

)

 

[

AS198949

]

  

5.146

 ms  

5.220

 ms  

5.312

 ms
 

2

  10.246.0.1 

(

10.246.0.1

)

 

[

*

]

  

7.306

 ms  

8.218

 ms  

8.218

 ms
 

3

  ip-

168

-

14

.balifiber.id 

(

103.94.168.14

)

 

[

AS136119

]

  

8.213

 ms  

8.197

 ms  

8.192

 ms
 

4

  ip-

168

-

73

.balifiber.id 

(

103.94.168.73

)

 

[

AS136119

]

  

8.184

 ms  

11.220

 ms  

10.736

 ms
 

5

  

*

 

*

 

*


 

6

  gramedia.openixp.net 

(

218.100.27.147

)

 

[

AS46043

/

AS4761

/

AS4766

]

  

9.821

 ms  

6.252

 ms  

8.372

 ms
 

7

  

*

 

*

 

*


 

8

  

*

 

*

 

*


 

9

  

*

 

*

 

*




10

  

*

 

*

 

*




11

  

*

 

*

 

*




12

  

*

 

*

 

*




13

  

*

 

*

 

*