Proses Transfer Domain dari InternetBS ke Namesilo disini akan dibagi menjadi dua agar memudahkan orang yang belum pernah melakukan transfer domain.
Di akun InternetBS
Disini kita akan mengambil code Authorization Code agar bisa mentransfer domain yang ada di akun kita. Login di internetbs.net, lalu klik domain yang mau anda transfer



klik pada tab expert, klik pada EPP Auth Info.


Copy code yang ada dibagian Current:. Karena code itu nanti kita butuhkan untuk proses transfer domain ke Namesilo.
Di Namesilo
Pertama buka transfer page Namesilo masukkan domain yang akan anda transfer lalu klik search. Dihalaman berikutnya masukkan
Authorization Code dari code yang anda ambil seperti dilangkah sebelumnya, bayar, setelah selesai bayar lalu klik Transfer These Domain.
Proses selanjutnya adalah proses verifikasi email admin domain yang mau anda transfer, klik My Account lihat dibarisan paling bawah muncul Pending Transfers



Klik Transfer Manager untuk melihat tahap yang sedang berjalan untuk transfer. Kurang lebih 10 menit cek email yang anda gunakan untuk mendaftarkan domain, klik link yang diberikan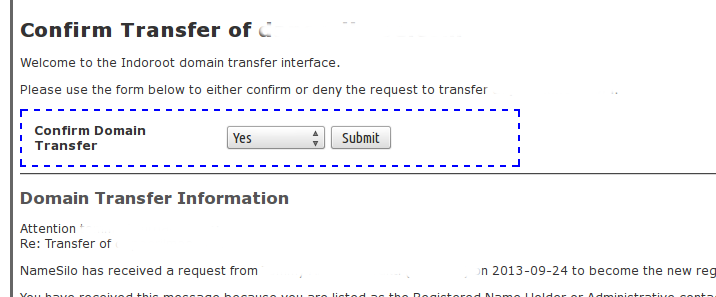 klik submit, muncul pesan "Thanks, we have recorded your confirmation of this transfer. We have notified the person who requested the transfer." sekarang tinggal menunggu sampai proses transfer selesai, antara 5-7 hari.
Yang butuh kupon diskon $1 namesilo bisa menggunakan : silosilo23