Untuk mempermudah berbagi file antar sistem operasi samba adalah software yang paling banyak digunakan. Dengan samba berbagi file antar Linux, Windows dan MacOS menjadi mudah. Dengan samba banyak skenario yang bisa kita jalankan, contoh membuat file sharing per group, misalnya per departemen kalo di kantoran, kalo di sekolah bisa per kelas, atau per bidang studi.
Install Samba
Install samba di Fedora
dnf 

install

 samba samba-client 

-y
Buat User Samba
User samba disini adalah user yang telah ada di sistem Linux anda, contoh user saya jaranguda. Saya akan menambahkan jaranguda ini ke user samba
contoh output perintah diatas
$ smbpasswd -a jaranguda
Registered MSG_REQ_POOL_USAGE
Registered MSG_REQ_DMALLOC_MARK and LOG_CHANGED
lp_load_ex: refreshing parameters
Initialising global parameters
Processing section "[global]"
No builtin backend found, trying to load plugin
load_module_absolute_path: Module '/usr/lib64/samba/pdb/tdbsam.so' loaded
New SMB password:
Retype new SMB password:
Forcing Primary Group to 'Domain Users' for jaranguda
Forcing Primary Group to 'Domain Users' for jaranguda
Added user jaranguda.
Konfigurasi Samba
Konfigurasi samba berada di /etc/samba/smb.conf, edit smb.conf, ubah workgroup menjadi WORKGROUP
disini kita akan membuat satu folder yang bisa diakses oleh user, tetapi hanya read-only tanpa bisa merubah apapun, dibagian paling bawah smb.conf tambahkan
# nama folder yang akan dilihat oleh user




[

FILM

]




# letak folder yang di share


path = 

/

home

/

jaranguda

/

koleksifilm

/


writable = no
guest ok = 

yes


guest only = 

yes


create mode = 0764
directory mode = 0755


# user yang mengakses samba dianggap sebagai user jaranguda


force user = jaranguda
Bila anda ingin folder tersebut bisa di tulis (read-write) oleh user ubah
[

MUSIC

]


create mode = 0764
directory mode = 0755
force group = jaranguda
force user = jaranguda
guest ok = Yes
guest only = Yes
path = 

/

home

/

jaranguda

/

Music

/




read

 only = No
Konfigurasi Samba Tanpa Login
Agar user bisa mengakses file sharing samba tanpa password di smb.conf tambahkan
map to guest = Bad Password
dibawah [GLOBAL]
lalu restart samba
Cara Mengakses Samba
Berikut ini cara untuk mengakses file yang ada di samba server tersebut
Windows
Dari Windows Explorer buka \\IP-SAMBA ganti IP-Samba dengan IP sebenarnya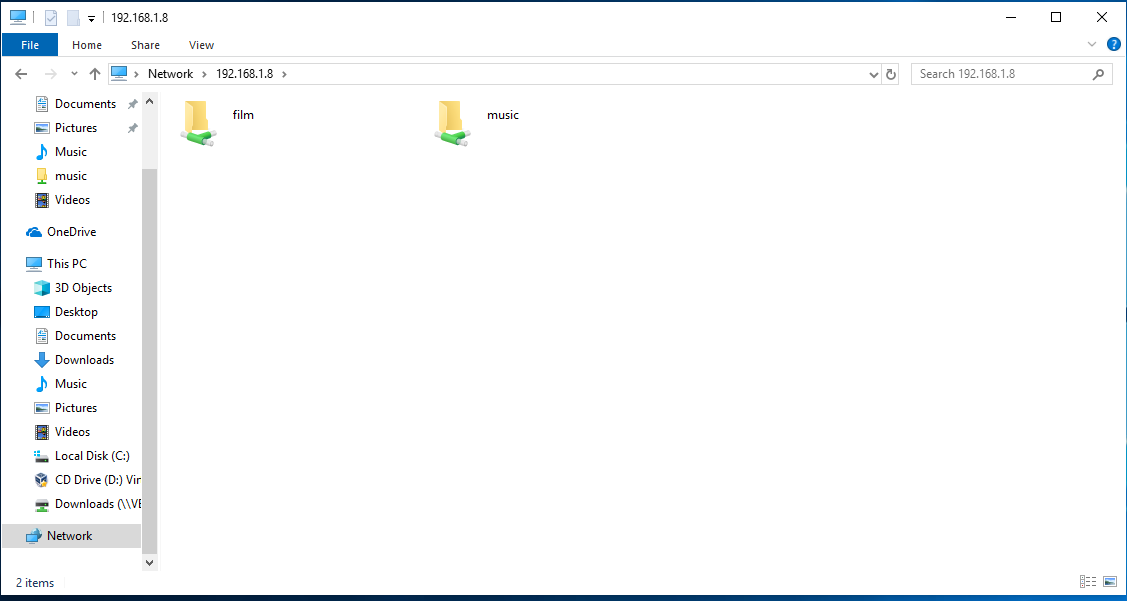 Linux
Dari Linux buka file manager (nautilus, thunar, dll) di address bar ketik smb://IP-SAMBA/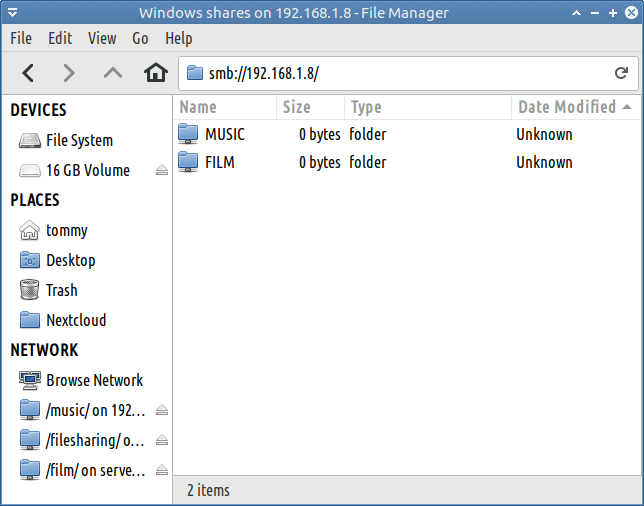 Last Updated on