Salah satu senjata system administrator (SRE/DEVOPS) adalah oldschool smokeping. Smokeping berguna untuk memonitoring ping realtime. Tools ini sangat berguna untuk melihat spike dari respon server, atau bila terjadi masalah di koneksi internet anda.
Install Smokeping
Install Apache Web Server
Konfigurasi Smokeping
File konfigurasi smokeping ada di folder /etc/smokeping/, situs atau ip yang akan di test latency pingnya disimpan di /etc/smokeping/config.d/Targets, ubah isi file Targets tersebut menjadi
***

 Targets 

***


 
probe = FPing
 
menu = Top
title = Network Latency Grapher
remark = Welcome to the SmokePing website of xxx Company. \
         Here you will learn all about the latency of our network.
 
+ Latency
menu = Latency
title = DNS
 
++ Google
menu = Google
title = Google
host = 8.8.8.8
 
++ Cloudflare 
menu = Cloudflare
title = Cloudflare
host = 1.1.1.1
 
++ OpenDNS 
menu = OpenDNS
title = OpenDNS
host = 208.67.222.222
 
++ Quad9 
menu = Quad9
title = Quad9
host = 9.9.9.9
Ubah file permission /var/lib/smokeping
chown

 smokeping:www-data 

-R

 

/

var

/

lib

/

smokeping

/
Aktifkan cgi dan smokeping di apache
a2enmod cgid
a2enconf smokeping
Validasi Konfigurasi Smokeping
Validasi konfigurasi smokeping dengan smokeping --check
smokeping 

--check




# output


Configuration 

file

 

'/etc/smokeping/config'

 syntax OK.
Jalankan Smokeping
Aktifkan service smokeping waktu booting
systemctl 

enable

 smokeping
jalankan service smokeping
systemctl restart smokeping
Web UI Smokeping
Buka website smokeping di http://IP-SERVER/smokeping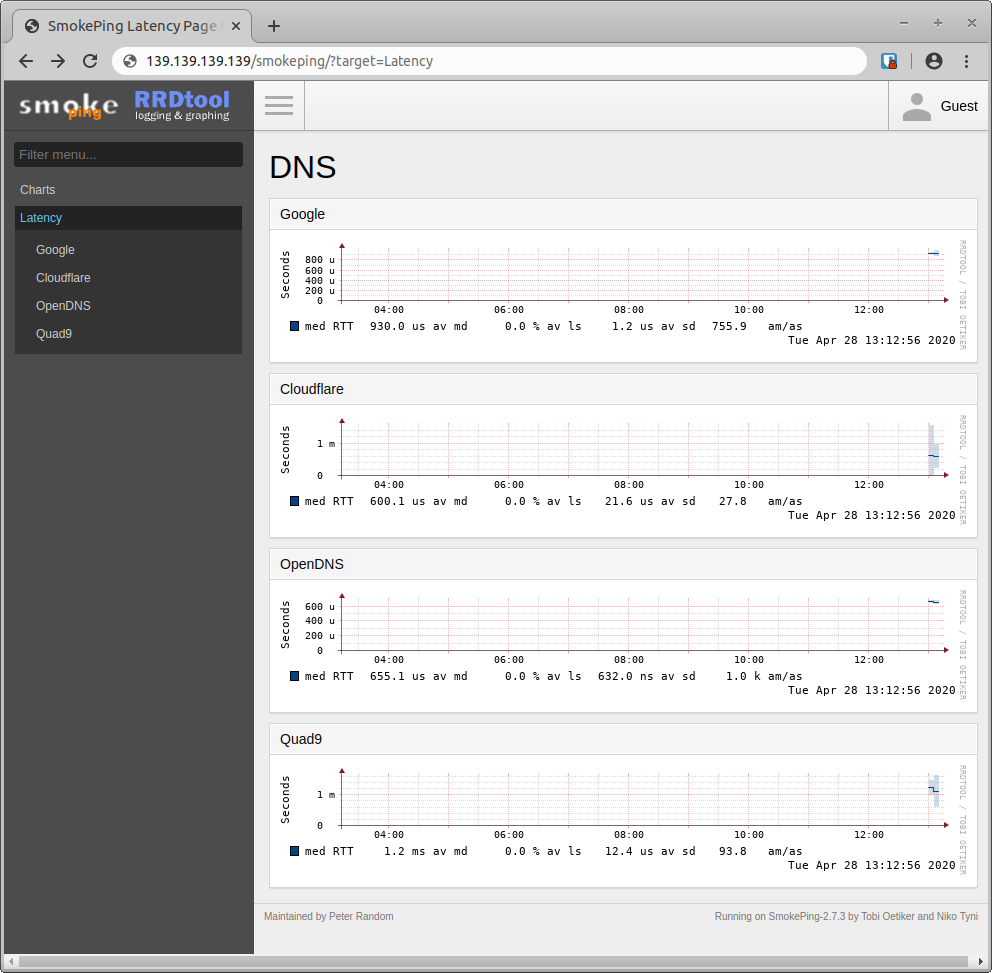 tunggu sampai 5 menit hingga muncul grafik ping nya.